The Aristocratic Restaurant on the cover of Street Action was located on the corner of Granville Street and Broadway in Vancouver.  The intersection remains but the restaurant chain has closed and the building has been torn down and replaced.  
But, me being me, I did some sleuthing.  The neon sign behind the model is now in storage in a Vancouver  museum, however a bookstore in the area has a facsimile of it on display.
From 1978, the album cover we know:
She might be the same model as on Rock N Roll Nights.  
Maybe the wife or girlfriend of a band member; any theories of who she might be?
And a close up of the sign: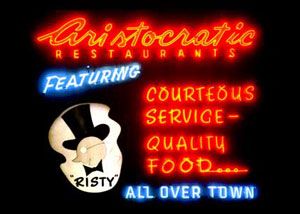 A link to a website with a brief history of the chain and the sign.